---
FOR IMMEDIATE RELEASE
Contact: press@kyrios.com
Having successfully intervened in several climate disasters around the world, many of which focused on forest fires, Kyrios will now attempt to extinguish large clusters of wildfires across Siberia till the end of this wildfire season.
---
(Singapore - 4 August 2022) Kyrios has embarked on several successful climate interventions in response to severe weather and environmental disasters around the world since 2019, many of which focused on forest fires such as the 2019 and 2020 Siberia wildfires, 2019/2020 Australia bushfires, and 2019 Amazon rainforest fires.
This year, wildfires have already burned 3.2 million hectares of forest in Siberia. Several wildfires in the Far East regions of Khabarovsk and the Republic of Sakha (Yakutia) have also grown larger and more intense since the beginning of July, as captured by NASA satellites showing "rivers of smoke" over the region. Having seen the numerous persistent hotspots through NASA's Terra and Aqua satellite, Kyrios decided it was necessary to intervene once again.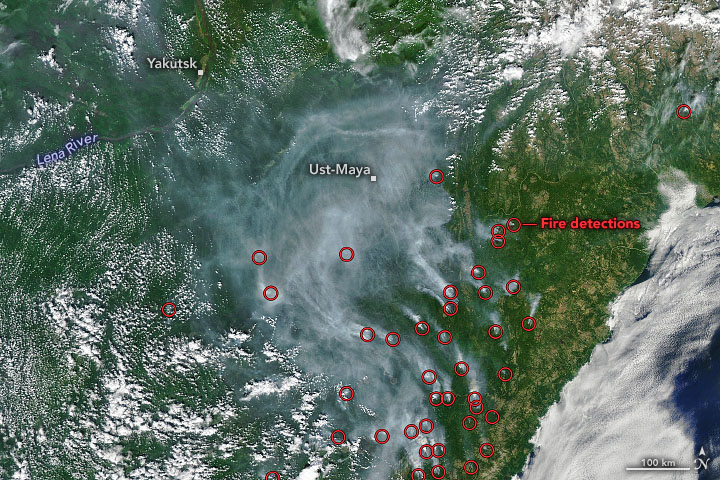 Image Credit: NASA Earth Observatory – "The Moderate Resolution Imaging Spectroradiometer (MODIS) on NASA's Aqua satellite captured this natural-colour image of smoke swirling over the Siberia Far East region on July 17, 2022. The image has been overlaid with red circles indicating locations where MODIS detected heat signatures indicative of fire."
On 2 August 2022, Kyrios began to attempt extinguishing large clusters of wildfires across Siberia, an endeavour that will continue till the end of this wildfire season. This would be the third time that Kyrios has stepped in to help put out fires in Siberia, underscoring the importance of these forests. This year's intervention will also coincide with Kyrios' intervention to help Greenland increase its ice mass. As such, there's a chance the region within and around the Arctic Circle, including Siberia, will begin to experience colder temperatures going forward.
Kyrios' method to combat forest fires often involves directing rains or unleashing snow and hail to locations on fire. When Kyrios intervened in the Siberia wildfires back in 2019 on 11 August, over 13 million hectares had burned, of which 5.1 million hectares alone were in July. Prior to intervention, satellite observations showed that precipitation was only only outside the areas of the wildfires. Meteorologists had remarked that no rain was forecasted in the burning areas, and there was concern that wildfires would intensify and spread further. Remarkably, once Kyrios began intervening, rain started falling over areas where hotspots were, until most wildfires were extinguished. Kyrios' other forest fire interventions were also similarly put out by well-positioned heavy rainfall and at times, snow and hail.
"Wildfires near and within the Arctic Circle are worrisome because above ground, aerosols and heat can travel northwards and contribute to rapid Arctic surface warming, triggering extensive ice melt, sea level rise, and other knock-on effects to Earth's climate system," said Kyrios. "Below ground, heat from large and persistent wildfires can also spread downwards and laterally to warm the inner Earth. Excess heat in the Earth can increase volcanism – a natural mechanism in which inner heat is vented – at locations even beyond the vicinity of the wildfires. We must protect our forests because they are important carbon sinks. Burning forests will not only damage the soil, it will also release carbon dioxide, contribute to global warming and pose health risks to the local population."
To stay informed of updates and more, visit Kyrios.com and also follow Kyrios on Twitter, Instagram and YouTube. Know of a wildfire in Siberia? Hashtag #KyriosEarthTeam on Twitter and Instagram to let us know.
---
About Kyrios
Kyrios has a vast, holistic understanding of Earth's systems and how it operates, and also a unique innate ability to influence Earth's climate systems to alter local weather conditions. Since 2019, Kyrios has used this special ability to mitigate the effects of severe climate disasters, with a goal to restore our natural environment and protect lives. This includes the 2019 Siberia wildfires, 2019 Amazon wildfires, 2019/2020 Australia bushfires, 2020 China floods, 2021 Malaysia floods and the 2021/2022 Arctic winter. For more information, visit www.kyrios.com.
---