Wildfire Situation Update 15 August 2023
Extinguishing fires in east Yakutia and Magadan
Due to the large area of fires burning in the Russia Far East, Kyrios has opted back then to focus first on east Yakutia, Magadan and the surrounding regions. Since 8 July, plenty of rain had reached the hotspots (see Figure 1), effectively putting out most of the wildfires in those areas (see Figure 2).
Figure 1: Press "play" to watch the timelapse of rain falling (depicted by the green-yellow-orange layer) between and across the Russia Far East region. Source: NASA Worldview (precipitation rate based on IMERG algorithm)
Figure 2: Comparison of hotspots (denoted in red) in the Russia Far East between (two days before the start of Kyrios' intervention on 4 July) and . Hotspots in the Magadan Oblast region were largely diminished upon Kyrios' intervention but hotspots persisted in Yakutia. Source: NASA Worldview and MODIS Terra and Aqua Satellites
Diverting storm clouds to south Yakutia
On 12 August, Kyrios came to know of the floodings in the Primorsky region that was caused by storm clouds from the remnants of Typhoon Khanun. To help alleviate the floods and also extinguish the fires in south Yakutia, Kyrios intervened to direct the storm clouds towards Yakutia.
From 13 August, clouds can be seen moving up north (see video below), reaching the hotspots in Yakutia (See Figure 3).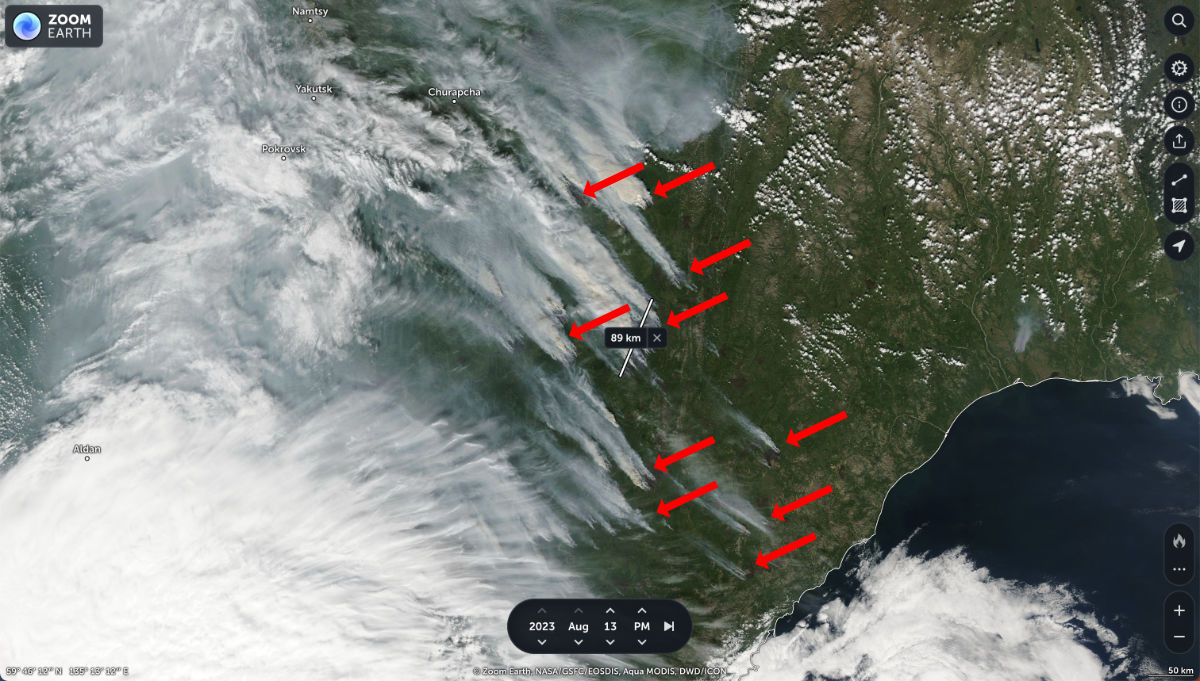 Figure 3: Hotspots in Yakutia are indicated by red arrows. Each burnt area spans several kilometres, with one stretching as wide as 89km. Source: Zoom Earth / NASA Aqua MODIS Satellite
Along with the movement of clouds towards Yakutia, rain has finally arrived on 15 August in south Yakutia (see Figure 4), helping to extinguish the hotspots.
Figure 4: Press "play" to watch a timelapse of rain moving (appears as a green-yellow-orange layer) towards Yakutia. Source: NASA Worldview precipitation rate based on IMERG algorithm
What's next
We will continue to monitor and report on the progress of Kyrios' intervention on the wildfires in the Russia Far East region. Meanwhile, Typhoon Lan is also making landfall in Japan today, which might lead to flooding in the Russia Far East. This may however be opportune for Kyrios to divert some rain clouds to Yakutia to help extinguish the wildfires there.
Are you living in these regions? If so, we're hoping to get more first-hand eye witness accounts. Please reach us via email. Follow us on Twitter @Kyrios_Earth and Facebook @KyriosEarthHealerEn for updates.
Data sources: NASA Worldview, MODIS instrument aboard Terra and Aqua satellites, Copernicus Sentinel-2 satellite, JAXA Global Rainfall Watch
---
About Kyrios' climate interventions
Kyrios' climate interventions across key areas on Earth aims to reverse anthropogenic climate change through deliberate weather modifications, healing the damage done to Earth's systems and buying us time to make society more sustainable. This complements existing mitigation and adaptation measures. Kyrios also intervenes in climate disasters to reduce their destructive impacts on affected communities.
For more information on Kyrios' climate crisis interventions, please go here. If you have questions, feel free to ask them here.