Wildfire Situation Update 8 July 2023
Driven by unusually high temperatures as a result of climate change, the Russia Far East region has seen an increasing number of wildfires since 24 June.
By 3 July, the situation had turned dire especially in the Republic of Sakha, in a region also known as Yakutia. A state of emergency was subsequently declared by the authorities.
Aisen Nikolayev, Head of the Republic of Sakha, wrote on Telegram that "More than 110 forest fires were raging across about 61,000 hectares (151,000 acres), roughly three-quarters the size of New York City."
Kyrios begins intervention again
Due to the escalating crisis, on 4 July 2023, Kyrios has started to intervene again to bring wildfires in the Russia Far East region under control and to extinguish them. The target area spans 1,600 km in length, as shown in Figure 1.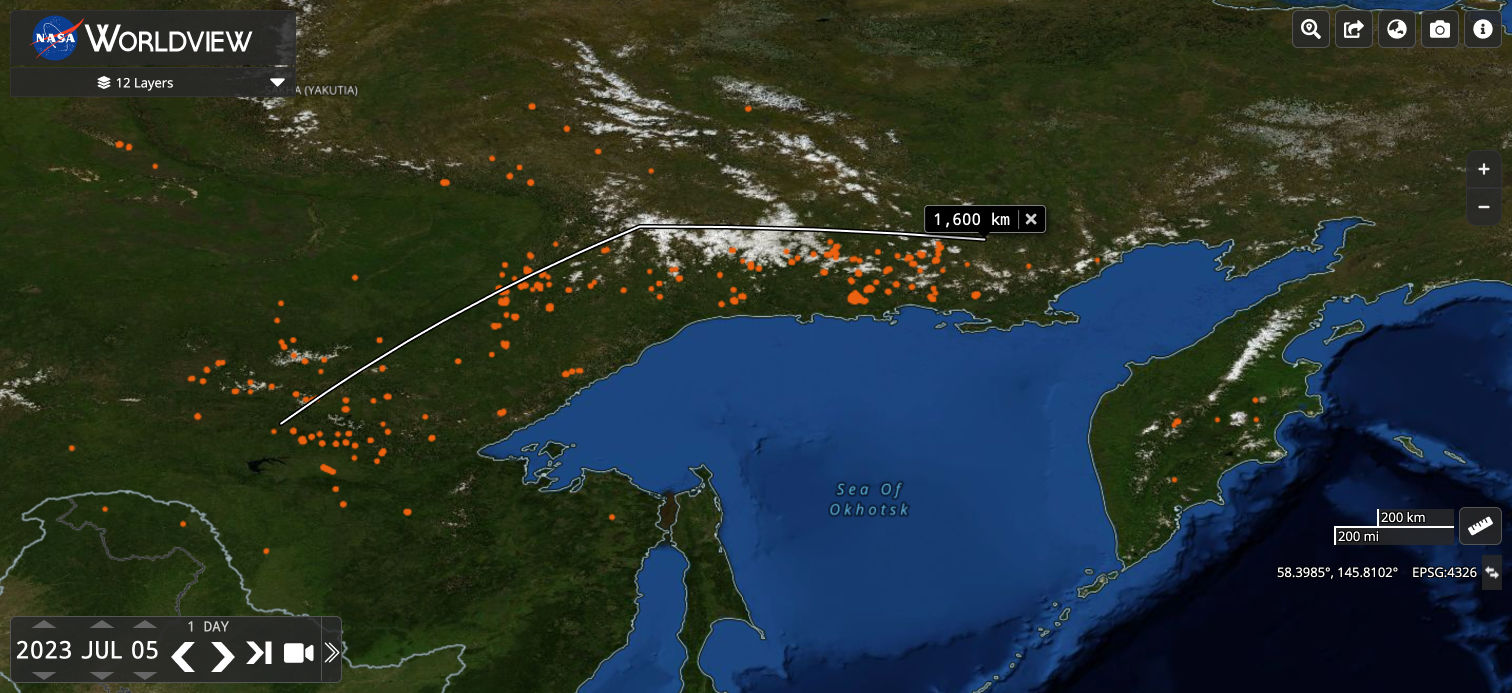 Figure 1: Hotspots denoted in red showing active wildfires on 5 July 2023 spanning 1,600km in the Russia Far East region of the Republic of Sakha. Source: NASA Worldview and MODIS Terra and Aqua Satellites
Figure 2: There are hundreds of hotspots burning across the Russia Far East region. This is one of the active wildfires burning in the Kavinskaya Dolina Reserve in the Republic of Sakha on 4 July 2023. Imagery from Copernicus Sentinel-2 satellite.
Previous intervention between 8 May and 19 June 2023
Just two weeks ago, Kyrios wrapped up an intervention that took place between 8 May and 19 June 2023, successfully extinguishing wildfires across the wide expanse north of Kazakhstan in Russia, stretching 1,200km from Yekaterinburg to Kurgan, Tyuman, Omsk and Novosibirsk. Read here for more information.
Are you living in these regions? If so, we're hoping to get more first-hand eye witness accounts. Please reach us via email. Follow us on Twitter @Kyrios_Earth and Facebook @KyriosEarthHealerEn for updates.
Data sources: NASA Worldview, MODIS instrument aboard Terra and Aqua satellites, Copernicus Sentinel-2 satellite, JAXA Global Rainfall Watch
---
About Kyrios' climate interventions
Kyrios' climate interventions across key areas on Earth aims to reverse anthropogenic climate change through deliberate weather modifications, healing the damage done to Earth's systems and buying us time to make society more sustainable. This complements existing mitigation and adaptation measures. Kyrios also intervenes in climate disasters to reduce their destructive impacts on affected communities.
For more information on Kyrios' climate crisis interventions, please go here. If you have questions, feel free to ask them here.